---
Falls Dam
a canoe trip October 5th, 2020
posted - October 7th, 2020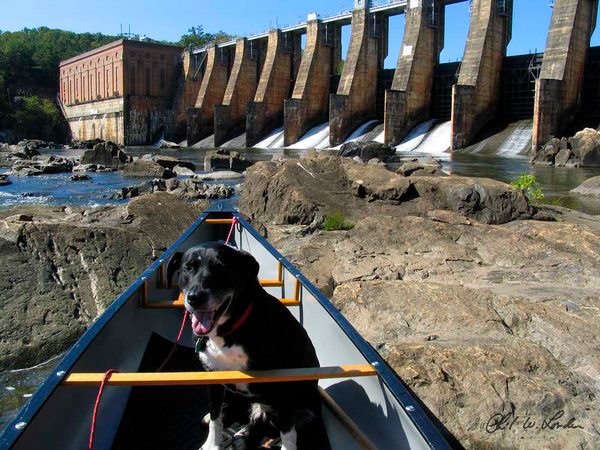 October 5th, 2020
Tap the image to load all 19 images in Lightbox. Then click the right or left side of each image to cycle through the collection.
I arrived at Morrow Mountain State Park boat launch about 7:30am. I decided to unload the canoe there and then paddle it up to the parking area. It's easy to put the canoe in the water at the boat launch. I loaded the canoe next to the main parking lot to avoid being in the way of fishermen putting their boats in the water.
The first few pictures show the pier with fog and the sun rising over Montgomery County. Once the canoe was loaded, I began to paddle the mile upstream. Getting closer to the dam the river becomes rocky, shallow and the current increases. September 29th the Yadkin River Basin had rain. I found it easier to approach the dam on the eastern side.
I saw eagles. One pair flew over my head and went to the Stanly County shore. They each landed in a tall hardwood tree near the water. Later I saw a pair on the Montgomery County shore flying to a tall pine at the waters edge. It is an area that would get little boat traffic.
I took many pictures of the dam. It makes a good subject with sunlight coming from down river. The dam looks the same to me as it did sixty years ago when I was a boy. This dam seems to grow out of the surrounding hills. The columns holding the gates look as if they were quarried from the rock hillside it joins in Montgomery County.
Falls Dam was completed in 1919. The dam flooded narrows gorge and created Falls Reservoir. The dam was built just below the falls of the Yadkin.