---
Falls Reservoir
a canoe trip September 22nd, 2020
posted - September 25, 2020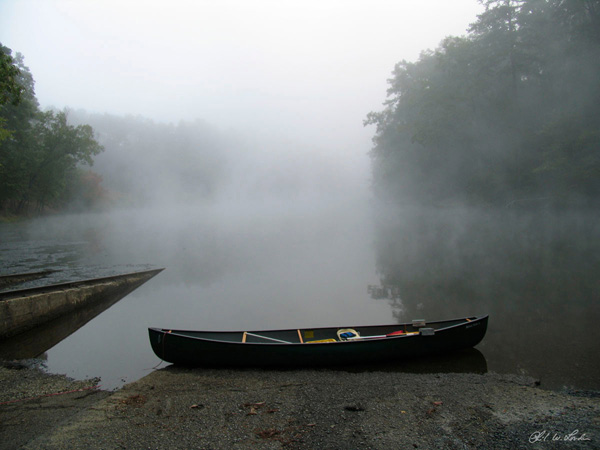 September 22nd, 2020
Tap the image to load all 28 in Lightbox. Then click the right or left side of each image to cycle through the collection.
It was a good day for an old man with an old dog, to paddle an old canoe. A good day to take pictures with an old camera between two old dams. You can find a selection of images by clicking or tapping on the image in the box.
The cool air met warm water. The morning started with fog.
I saw turtles, ducks, egrets, herons, osprey, cormorants (I think) and lots of buzzards. I didn't like the way the buzzards looked at me. As I paddled close to shore, ahead of me an eagle leapt from a limb and flew up river to the opposite shore. A moment later, a second eagle followed the first. It's always nice to see them. When I was young, I don't think any eagles were nesting in this area. DDT had thinned their shells and their numbers.
At one stop, while I took pictures, Dude ran around behind me. He is used to jumping in the water after sticks or tennis balls. The sound they make and the splash of the water excite him. I heard an acorn or two fall from a tree into the water. They made a thunk, thunk sound. The next sound was Dude diving into the water. He was 10 feet from shore and swimming hard when I turned around. I called him a few times and he turned back to shore.
It was a day when the water level and current made paddling the last stretch to Narrows Dam effortless.
Even though I don't expect to paddle my canoe much longer, I hope this area can be protected. It seems odd that a 2 mile stretch of river, with a large dam on each end, can seem wild and natural. It does, but there are signs of human activity on the shores. On the Uhwarrie National Forest side, rock fire rings are found wherever people can stand. At one spot I saw three fire rings within 20 feet from first to last. The ground around them has been beat down and reduced to dirt where no vegetation can grow. Often small trees have been cut. Even worse, people leave behind trash. The first time I took my canoe to Falls Reservoir was 1998. Paddling close to shore under the overhanging trees was blissful. It still is, but I've seen more fire rings, bottles, cans and other trash on shore in the last few years. I didn't take pictures of the trash.